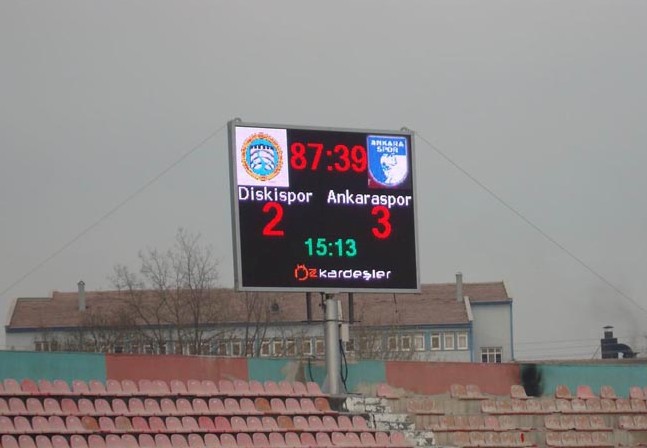 ver the years we have installed many LED football scoreboard displays into Football Clubs, from small non league Clubs, Schools and Colleges, through to Premiership Clubs.
Whether you are looking for a simple cost effective football scoreboard which may be a basic 2 digit HOME/AWAY scoreboard with 2 digit timer, to a large Outdoor Full Colour Video Screen or somewhere in between, then speak to us and we can come up with the perfect solution to your requirement.
At a Football Stadium, sports LED displays and scorebaords can be installed at the ends of the pitch for greater effect in the budget allows or a single display at the half way line.
For a football scoreboard installed at the end of the pitch, the viewing distance would be 90 metres, therefore giving an LED height of approximately 300mm. For displays installed at the half way line require an LED height of 200mm.
All our outdoor screen displays and sports LED boards are built with the weather in mind!
APOLLOMI........When only the Best Will Do!
Over 30 years experience and market leaders in the field of LED outdoor screen displays and LED football scoreboards
UK Design and Manufacture
Committed to giving you the best possible service
Dedicated to design, development and manufacture of high quality, cost effective displays
Low cost displays are available from our on line shop
View our LED scoreboards and outdoor LED screens at our showroom in Andover